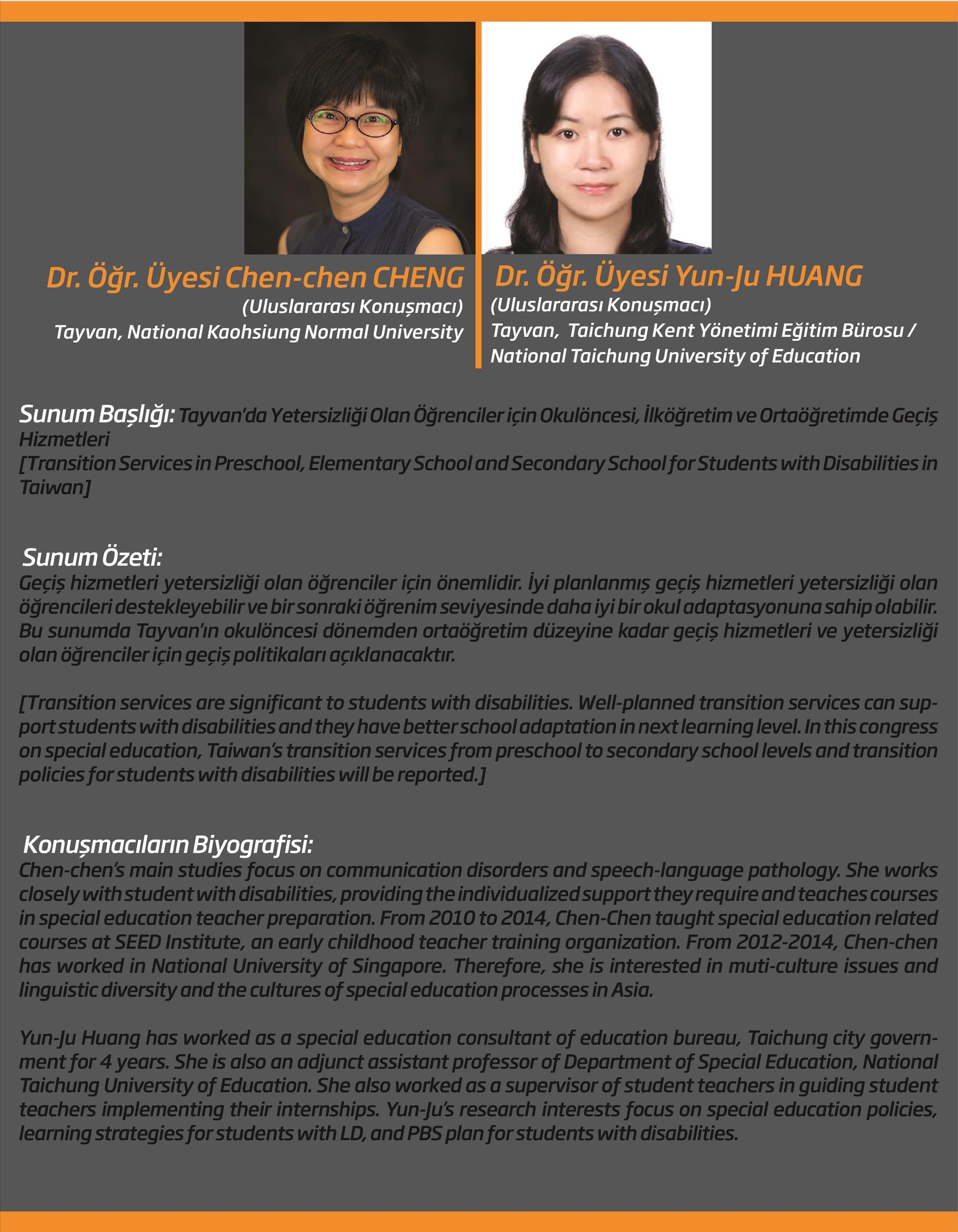 Dr. Öğr. Üyesi Chen-chen CHENG
(Uluslararası Konuşmacı)
Tayvan, National Kaohsiung Normal University
Özel Eğitim Danışmanı & Dr. Öğr. Üyesi Yun-Ju HUANG
(Uluslararası Konuşmacı)
Tayvan, Taichung Kent Yönetimi Eğitim Bürosu / National Taichung University of Education
Sunum Başlığı: Tayvan'da Yetersizliği Olan Öğrenciler için Okulöncesi, İlköğretim ve Ortaöğretimde Geçiş Hizmetleri
[Transition Services in Preschool, Elementary School and Secondary School for Students with Disabilities in Taiwan]
Sunum Özeti:
Geçiş hizmetleri yetersizliği olan öğrenciler için önemlidir. İyi planlanmış geçiş hizmetleri yetersizliği olan öğrencileri destekleyebilir ve bir sonraki öğrenim seviyesinde daha iyi bir okul adaptasyonuna sahip olabilir. Bu sunumda Tayvan'ın okulöncesi dönemden ortaöğretim düzeyine kadar geçiş hizmetleri ve yetersizliği olan öğrenciler için geçiş politikaları açıklanacaktır.
[Transition services are significant to students with disabilities. Well-planned transition services can support students with disabilities and they have better school adaptation in next learning level. In this congress on special education, Taiwan's transition services from preschool to secondary school levels and transition policies for students with disabilities will be reported.]
Konuşmacının Biyografisi:
Chen-chen's main studies focus on communication disorders and speech-language pathology. She works closely with student with disabilities, providing the individualized support they require and teaches courses in special education teacher preparation. From 2010 to 2014, Chen-Chen taught special education related courses at SEED Institute, an early childhood teacher training organization. From 2012-2014, Chen-chen has worked in National University of Singapore. Therefore, she is interested in muti-culture issues and linguistic diversity and the cultures of special education processes in Asia.
Yun-Ju Huang has worked as a special education consultant of education bureau, Taichung city government for 4 years. She is also an adjunct assistant professor of Department of Special Education, National Taichung University of Education. She also worked as a supervisor of student teachers in guiding student teachers implementing their internships. Yun-Ju's research interests focus on special education policies, learning strategies for students with LD, and PBS plan for students with disabilities.