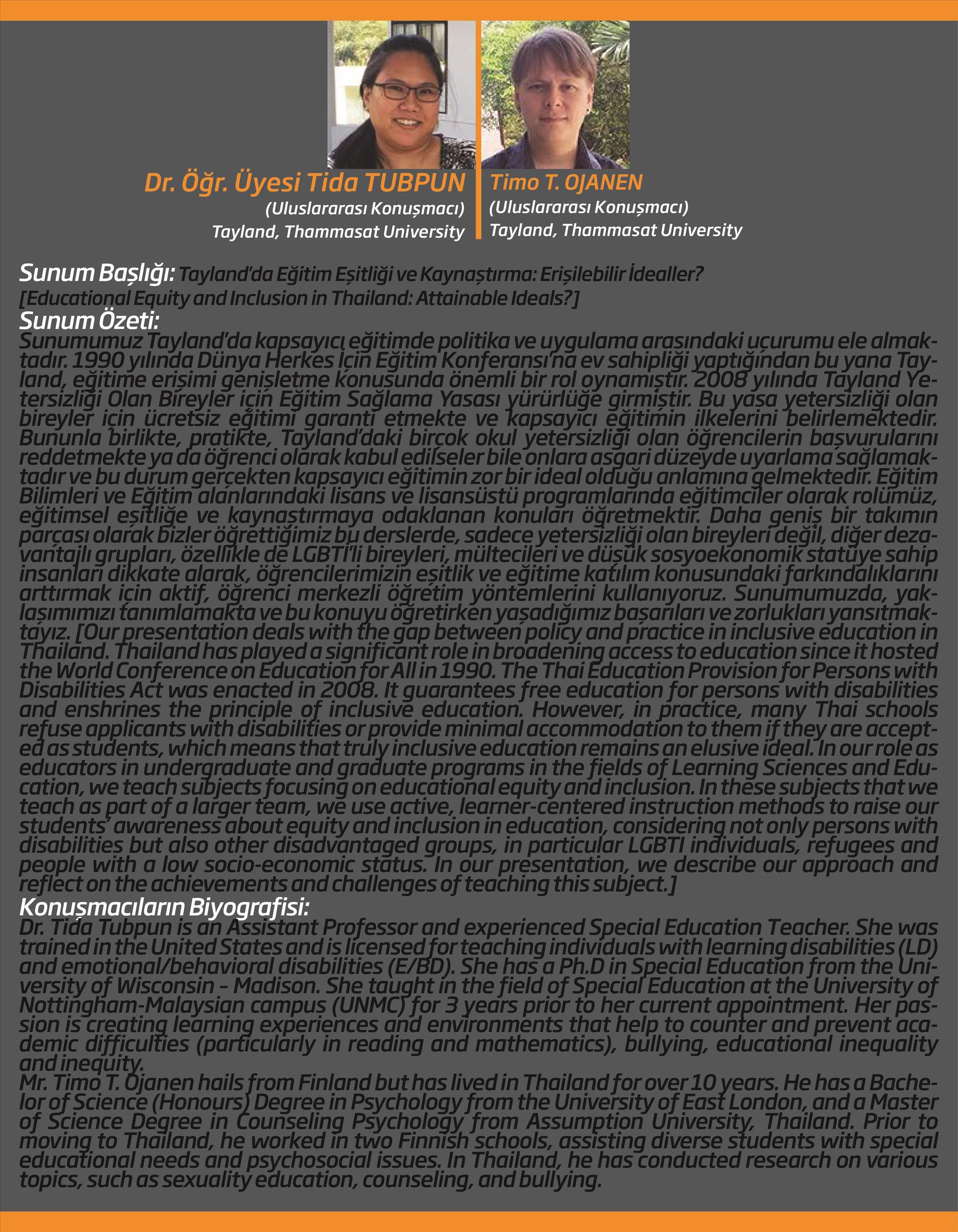 Dr. Öğr. Üyesi Tida TUBPUN
(Uluslararası Konuşmacı)
Tayland, Thammasat University
Uluslararası İlişkiler Dekan Yardımcısı Timo T. OJANEN
(Uluslararası Konuşmacı)
Tayland, Thammasat University
Sunum Başlığı: Tayland'da Eğitim Eşitliği ve Kaynaştırma: Erişilebilir İdealler?
[Educational Equity and Inclusion in Thailand: Attainable Ideals?]
Sunum Özeti:
Sunumumuz Tayland'da kapsayıcı eğitimde politika ve uygulama arasındaki uçurumu ele almaktadır. 1990 yılında Dünya Herkes İçin Eğitim Konferansı'na ev sahipliği yaptığından bu yana Tayland, eğitime erişimi genişletme konusunda önemli bir rol oynamıştır. 2008 yılında Tayland Yetersizliği Olan Bireyler için Eğitim Sağlama Yasası yürürlüğe girmiştir. Bu yasa yetersizliği olan bireyler için ücretsiz eğitimi garanti etmekte ve kapsayıcı eğitimin ilkelerini belirlemektedir. Bununla birlikte, pratikte, Tayland'daki birçok okul yetersizliği olan öğrencilerin başvurularını reddetmekte ya da öğrenci olarak kabul edilseler bile onlara asgari düzeyde uyarlama sağlamaktadır ve bu durum gerçekten kapsayıcı eğitimin zor bir ideal olduğu anlamına gelmektedir. Eğitim Bilimleri ve Eğitim alanlarındaki lisans ve lisansüstü programlarında eğitimciler olarak rolümüz, eğitimsel eşitliğe ve kaynaştırmaya odaklanan konuları öğretmektir. Daha geniş bir takımın parçası olarak bizler öğrettiğimiz bu derslerde, sadece yetersizliği olan bireyleri değil, diğer dezavantajlı grupları, özellikle de LGBTİ'li bireyleri, mültecileri ve düşük sosyoekonomik statüye sahip insanları dikkate alarak, öğrencilerimizin eşitlik ve eğitime katılım konusundaki farkındalıklarını arttırmak için aktif, öğrenci merkezli öğretim yöntemlerini kullanıyoruz. Sunumumuzda, yaklaşımımızı tanımlamakta ve bu konuyu öğretirken yaşadığımız başarıları ve zorlukları yansıtmaktayız.
[Our presentation deals with the gap between policy and practice in inclusive education in Thailand. Thailand has played a significant role in broadening access to education since it hosted the World Conference on Education for All in 1990. The Thai Education Provision for Persons with Disabilities Act was enacted in 2008. It guarantees free education for persons with disabilities and enshrines the principle of inclusive education. However, in practice, many Thai schools refuse applicants with disabilities or provide minimal accommodation to them if they are accepted as students, which means that truly inclusive education remains an elusive ideal. In our role as educators in undergraduate and graduate programs in the fields of Learning Sciences and Education, we teach subjects focusing on educational equity and inclusion. In these subjects that we teach as part of a larger team, we use active, learner-centered instruction methods to raise our students' awareness about equity and inclusion in education, considering not only persons with disabilities but also other disadvantaged groups, in particular LGBTI individuals, refugees and people with a low socio-economic status. In our presentation, we describe our approach and reflect on the achievements and challenges of teaching this subject.]
Konuşmacının Biyografisi:
Dr. Tida Tubpun is an Assistant Professor and experienced Special Education Teacher. She was trained in the United States and is licensed for teaching individuals with learning disabilities (LD) and emotional/behavioral disabilities (E/BD). She has a Ph.D in Special Education from the University of Wisconsin – Madison. She taught in the field of Special Education at the University of Nottingham-Malaysian campus (UNMC) for 3 years prior to her current appointment. Her passion is creating learning experiences and environments that help to counter and prevent academic difficulties (particularly in reading and mathematics), bullying, educational inequality and inequity.
Mr. Timo T. Ojanen hails from Finland but has lived in Thailand for over 10 years. He has a Bachelor of Science (Honours) Degree in Psychology from the University of East London, and a Master of Science Degree in Counseling Psychology from Assumption University, Thailand. Prior to moving to Thailand, he worked in two Finnish schools, assisting diverse students with special educational needs and psychosocial issues. In Thailand, he has conducted research on various topics, such as sexuality education, counseling, and bullying.